It's no secret that buying and selling have become more complex in the last decade.  The Internet has challenged the expertise of sales reps since buyers are a Google search away from the answers that they need. But, very often this can result in information overload, which is why the majority of B2B buyers find the whole purchasing process to be overwhelming.
Because they are overwhelmed, buyers are looking to sales reps to act as trusted advisors.  A trusted advisor is a sales rep buyers seek out for advice because they are viewed as a credible source of information on industry trends, competition, or strategic solutions.
How to Close more deals?
Becoming a Trusted Advisor requires a change in the mindset of your sales reps that helps them to close more deals.  Trusted Advisors need to perform these 4 steps to close the deals with clients:
1. Buyer-centric Preparation
Preparation for any customer interaction should begin and end with a focus on the customer. Sales reps should always consider the information that the customer wants to get out of the meeting. This type of thinking builds trust and adds value to the conversation.
2. Asking Great Questions
Trusted advisors demonstrate their value by asking questions that show an interest in their customer's business. This shows the buyer that the sales rep is more interested in building a relationship than a money grab.
3. Proactively Creating Value
Trusted advisors are always thinking about proactively adding value for their customers, by offering insights that are not directly related to closing the sale. This pays off over time as the sales rep demonstrates their ability to help their buyers solve their business challenges.
4. Maintaining a Collaborative Tone
Reinforce that it's not "I", or "you", but "we" and "us".  This will help you go beyond the transactional nature of your relationship and demonstrate your value as a trusted partner.
10 behaviours of becoming a Trusted Advisor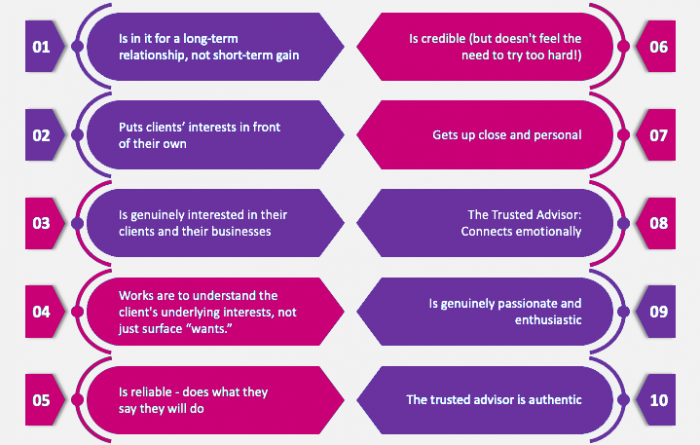 In a nutshell
Now, exactly how you achieve this will depend on the nature of your business and your industry, but if you master these steps you'll be well on your way to closing more deals and increasing your revenue.
When it comes to becoming a Trusted Advisor in the digital age, a key enabler for your sales team is a CRM system.  Modern CRM like SAP Sales Cloud offers you real-time customer insights and data analysis, allowing you to deliver personalized experiences to your customer.