Each business and its processes are different. So, how can their management software be the same? This is why the developers came up with the idea of designing an enterprise software that responds to the unique needs of the business at budget.
Exactly, that's the idea behind SAP Business ByDesign, a cloud-based subscription ERP software. The software provides tool and intelligence support for all sorts of activities carried out during a normal business day.
There are various organizations that are operating at small to medium scale. Their budget is not the same as that of top-tier organizations. Small and medium businesses (SMBs) need functional support that can deliver the results at the budget and able to scale up or down as per the changing requirements which SAP Business ByDesign can offer.
Modern organizations look for the workforce in all parts of the world, in search of cost-effective solutions and a better talent pool. This kind of diversity in the workforce becomes easy to manage when there is a solution offering the convenience of merging and interacting with the team members. As a cloud-based solution, SAP Business ByDesign can bring the whole team on the board even though physical boundaries and time-zones separate them. Thus, the solution supports global work culture – the extended presence of the business beyond offices, cities and countries.
In this article, we will explore the top 5 key benefits and what's included in SAP Business ByDesign as you can watch short functionality demo videos.
What is SAP Business ByDesign?
SAP Business ByDesign is an end-to-end solution comprising of decision making support, process management support, goal assessment support, productivity management support and so on. Moreover, it is fully flexible and completely open-source that allows the users to add more feature or modify the existing ones based on the needs of their business.
The Key Benefits of SAP Business ByDesign
Well, functionality delivery is the core value of this solution. So, let's find out what all this means in terms of the benefits it offers:

1. One-stop solution
By including all, it actually means all. SAP Business ByDesign is a complete solution and does not require the organization to implement separate software for each kind of process managed.
The solution can be customized according to the requirements of various departments handling a different kind of affairs.  It allows us to keep only those tabs or functionalities active that are typical to that department. Thus, it is providing the functionalities in a tailor-made format.
Besides that, the head of the organization and other crucial entities engaged in decision-making processes get all the insights at one place. Therefore, an added level of visibility makes their job easier and error-free when it comes to strategic planning.
2. Expands according to your growth plans
Whether it is simply the inclusion of new employee in the business setting, or introducing entirely new branch in the company's geographical map, SAP Business ByDesign makes it possible to accommodate all changes ranging from trivial to crucial type. Also, with no extra investment in resources or expanding of the cost structure.
Moreover, the organizations do not have to look at which phase of the business cycle they are in to implement this solution. Despite that, they can make it count for their functional requirements. Hence, all new developments such as acquiring a new warehouse overseas, or opening another branch in the same city can be merged into a single system and also can be worked upon concurrently.
3. Work from anywhere using your own device
Businesses' environment is quite fast-paced. Therefore, the organizations are working upon making the onboarding processes quicker and effort-free. The convenience of workers is at the helm of affairs, and so is the need of gaining productivity from them. Work from anywhere, using your device and reporting through video chats or mobile phone-based reporting is a new normal among the organizations. Thus, software like SAP Business ByDesign proves their utility as this supports mobile integration.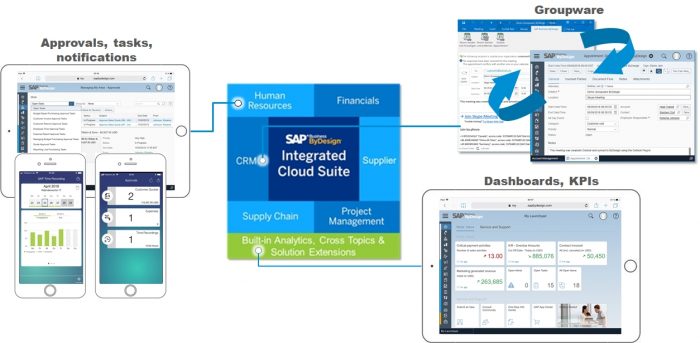 The functions related to sales and customer service including the ability to familiarize the customers with products or service through online catalogues, providing them chatbot support and sending sales reports online to the supervisors. Indeed, these have made the lives of workers on the field easy.
Similarly, the ease of accessing employee details and availability reports, or ease of accessing job structure of each worker remotely allow the supervisors to ensure that all workers are provided with ample job responsibilities. In addition, it assures the supervisors that they are all are giving their best towards meeting the company's goals.
With SAP Business ByDesign you can record remote attendance of employees, analyse the performance of the employees stationed outside and manage payroll while on the go. Besides that, information assimilation and exchange becomes easy to achieve with SAP Business ByDesign. Therefore, the employees can grow and work according to the changing work culture in the organization.
4. At budget solution
The sole aim of SAP Business ByDesign is making the business possible even at a low or medium budget. Thus, the solution is suitable for businesses who need scalable support with a cost-efficient subscription plan. Above all, the branding of SAP does not make it a high-end ERP solution but it is made available at a budget to expand the reach of SAP expertise to mid-size businesses.
5. Easy installation and in time onboarding
Easy user onboarding is another convenience this user-friendly solution offers. Furthermore, the experts reportedly take not more than a month or two to bring the whole business process imprinted on this ERP solution. Hence, SAP Business ByDesign becomes no less than the soft version of the business with processes and improves productivity.
What is included in SAP Business ByDesign?
1. Project Management:
SAP Business ByDesign facilitate project management of any size and complexity. Also, allowing for more effectively run and profitable projects:
Resource and responsibilities allocation
assessment of project progress
Real-time project collaboration and monitoring.
budgeting and others
WATCH: PROJECT MANAGEMENT DEMO
2. Financial Accounting:
SAP Business ByDesign enables you to get a real-time view of your financial situation, streamline your core accounting processes, and better manage cash and liquidity:
Cost allocation
ROI accounting
Stakeholders value assessment
Cash flow management
Real-time insights into bank balances
Tax reporting with robust reporting capabilities
Efficient management of payables, receivables, inventory, and liquidity
Multiple financial reporting standards simultaneously
WATCH: FINANCIAL ACCOUNTING DEMO
3. Customer Relationship Management:
SAP Business ByDesign provides the tools to help you efficiently manage the entire sales process and customer life cycle – from initial contact to final sale, to after-sales service and support:
Customer order management, complaint resolution and product improvement
A comprehensive view of customers and user-friendly features enhancement
Generate a sales opportunity, create a quote, calculate pricing, enter payment and shipping information, and create a sales order and invoice in a single integrated process, and more.
Lead and opportunity management, marketing and campaign management, account and activity management, and more.
Public relations communications
WATCH: CUSTOMER RELATIONSHIP MANAGEMENT DEMO
4. Procurement:
Empower your employees with self-service procurement functionalities to save time and costs:
Billing and invoice management, payment processing and payment gateways
Vendor onboarding, centralize supplier information and negotiate better deals
Increase purchasing efficiency with automated processes
Improve internal and external collaboration
Monitor performance through operational and strategic purchasing analysis.
WATCH: PROCUREMENT DEMO
5. Supply Chain Management:
SAP Bussiness ByDesign improves supply-demand matching while providing increased flexibility in customer and supplier collaboration. Thus, the solution enables you to optimize material flow by managing demand and supply so you can respond quickly to changing markets:
Logistics management and control, order processing support, raw material order and reorder management, fleet management, custom order processing support and likewise.
Comprehensive planning
Flexible production support
Scalable warehouse and inventory management
Closed-loop quality assurance
Integrated product development
Mobile execution and automation
WATCH: SUPPLY CHAIN MANAGEMENT DEMO
6. Human Resource Management:
SAP Business ByDesign ensures efficient and effective HR operations and maximizes the potential of your employees:
Organization management, workforce administration, time and attendance
Talent acquisition, talent onboarding and training management, talent retention
Payroll management, salary and bonus computation, loans and advances.
HR self-service – employee portal and dashboard to every entity, leave management and with other core business processes.
7. Compliance:
Ethical code, transparency in communications, customer data protection, privacy policy formulations and updates, terms of product use, terms of service, and so on.
The Conclusion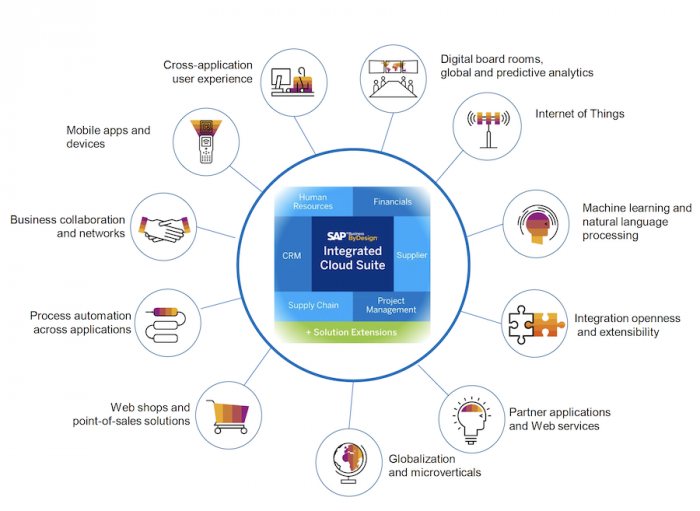 To sum up, SAP Business ByDesign is a scalable, flexible, user-friendly and completely modifiable business automation solution. It is the trusted process support solution for mid-market companies that have all the qualities one look for at the affordable price. Furthermore, the organizations can alter this tool as per their requirement and bring seamlessness in all aspects of business administration. Last but not least, it is not a luxury but certainly a necessity for the cost- and quality-conscious businesses.