Setting up a small business in Singapore is no easy feat, but SAP Business One makes it much simpler. With one integrated system to manage all the critical components of your business operations. From managing customers, inventory and sales, SAP Business One Singapore makes business management as easy as a few clicks.
Get an up-close look at how this software can help streamline your business with an online demonstration, or see firsthand how cost-effective this business solution can be with customized pricing tailored to your specific needs.
Taking charge of your small business operations has never been easier than with SAP Business One.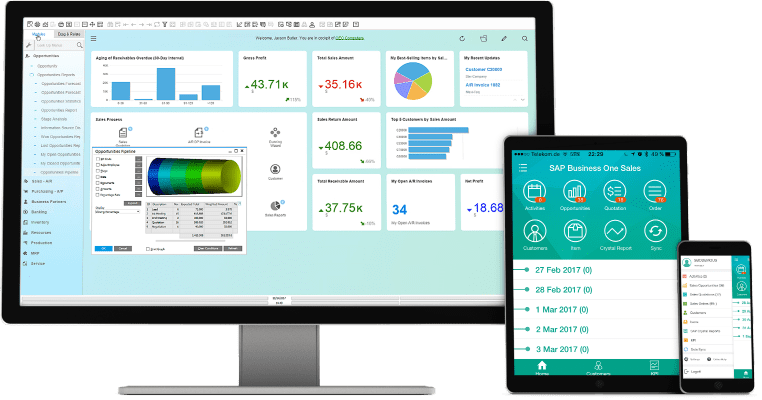 What Affects SAP Business One Singapore Pricing?
SAP Business One Singapore pricing for services can depend on various factors, such as the type of service, deployment model, and project scope. The services offered by SAP for SAP Business One include implementation, customization, support, and training.
1. Number and Type of Licenses
The type and number of licenses you purchase will significantly impact the cost of SAP Business One.
There are three primary license types: Professional User License, Limited Professional User License, and Standard User License.
Each license has features and capabilities, so it's vital to consider which type best suits your needs before purchasing. Additionally, the more licenses you purchase, the lower your overall cost per license will be.
2. Payment Frequency
You also have the option of paying for your SAP Business One Singapore license on an annual or monthly basis. Annual payments are usually discounted but require a large up-front payment. Monthly payments are easier on cash flow but do not offer discounts unless a promotion is available at the time of purchase.
For example, if you're entitled to a discount for paying for a whole year upfront, you may spend far less than if you opt for monthly payments. Additionally, there could be additional setup and configuration costs if you make regular monthly payments instead of paying in one lump sum.
3. Software Maintenance and Upgrades
Software needs to be continuously updated, new features are being added, and some bugs are fixed. The efforts to keep the software up-to-date and in perfect shape require a maintenance fee, which impacts the total cost of ownership of the software license.
Every once in a while a new version is released. In order to keep your system up to the latest available features you would need to upgrade your system, and there will be additional consulting effort required at that time. Depending on the level of customization, such upgrades might take more or less time, which in turn would affect the upgrade cost.
With all these financial considerations, it pays off in the long run to make sure you constantly keep track of software updates and take advantage of them when they become available in order to maximize your investment in SAP Business One.
4. Integration Services
Some businesses may require additional integration services from a third-party vendor to get their system up and running correctly.
This cost should also be considered when budgeting for an SAP Business One system, as it can vary greatly depending on the complexity of the integration process required for each business case.
5. Customization Services
Finally, you need additional customization services beyond the standard version of SAP Business One.
In that case, this too can significantly increase costs, depending on how much customization is needed and which vendors are providing these services.
Businesses must plan regarding customizations as they can add considerably more costs beyond a standard setup fee if not accounted for early in the process.
The 3 Licensing Options for SAP Business One Singapore
SAP Business One is designed to help streamline operations and improve efficiency through automated processes and features.
But what about the cost? How much does it cost to get started with SAP Business One? The answer depends on your needs and the type of license you select.
Look at the three main licensing options available for SAP Business One.
1. Professional
This highly valued license is perfect for businesses that need full access to all of SAP Business One's features, including secure financial management, sales, customer management, and inventory control.
Therefore, businesses can take advantage of this powerful tool to help them reach their goals more efficiently and effectively. With SAP Business One Professional Licensing Option, your business will take a big step in harmony with the ever-changing market!
2. Limited
This is a suitable option for smaller businesses that need specific professional services. You can choose a full license, which is excellent if you plan on using most of the features and functions available, or go with a limited license, where the cost per user license is lower.
Limited-user license is worth considering if you want to maximize value and keep your costs down. Plus, with limited user licenses, users always have access to their particular professional area, which makes finding what you need much easier.
3. Starter
This package is designed to meet the budget and provide the essential tools to keep track of your accounts, manage sales orders, maintain item data, and manage purchases.
Its limited 5 users capacity is perfect for startups just beginning their journey and small businesses looking for an affordable option.
The 3 Hosting Options for SAP Business One Singapore
Are you considering deploying SAP Business One in your organization but need to know the best hosting option? You're not alone.
Choosing a hosting provider is a crucial decision with several factors, such as budget, number of users, the complexity of implementation, and the control needed.
This section shows insights into the hosting options available for SAP Business One, allowing you to make an informed decision.
1. Hyperscaler Hosting Options
Hyperscaler hosting refers to cloud-based providers such as AWS (Amazon Web Services), Azure (Microsoft Cloud Platform), or Google Cloud. These providers offer scalability and reliability and are relatively cost-effective.
You can quickly scale up or down based on the needs of your business without having to worry about additional hardware costs or maintenance fees. However, it is essential to note that these services may provide a different level of control than an on-premises solution.
2. Axxis Consulting Data Center Hosting Option
Axxis Consulting Data Center may be the right choice if you want a more secure solution for hosting SAP Business One. Axxis Consulting is an SAP Platinum Partner and offers dedicated servers with high levels of security and redundancy measures to protect your data from being compromised.
They also provide 24/7 technical support, which makes this an attractive option for those who need round-the-clock assistance with their system operations.
3. On-Premises Solution
With this option, you will have complete ownership over all hardware and software used to run your system, including servers, storage devices, network infrastructure, etc., allowing you to customize it according to your specific needs.
You will also benefit from having access to local resources such as IT personnel who can help troubleshoot any issues that arise with the system quickly and efficiently.
However, this option requires a more significant upfront investment than hyperscaler or Axxis Consulting Data Center solutions, so it should only be considered if you've got wiggle room in your budget.
Also Read: SAP Business One: Cloud or On-Premise?
SAP Business One Singapore Cloud Pricing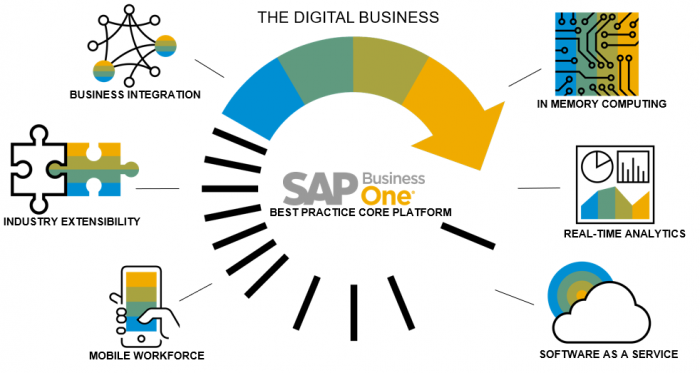 Finding a reliable cloud platform for SAP Business One can seem like a challenge, but the good news is that the pricing is straightforward and affordable. You can now get access starting from SGD 98 per user/month. That's incredibly budget-friendly, making handling your business's compliance easier and boosting your business productivity.
With such an easy-to-understand and affordable structure, you no longer have to worry about buying costly hardware and managing complex software systems – SAP lets you run a business with minimal effort!
Pricing Quote
The quick-and-easy estimation questionnaire provides a way to obtain an estimated pricing quote for SAP Business One based on your specific requirements and preferences.
You can input information such as the number of users, the preferred deployment model, the specific modules and features you require, and any additional customization or integration services by clicking on the form.
Based on this information, the questionnaire will provide you with an estimated price for SAP Business One. This can help you determine the approximate cost of the software and make informed decisions about whether it is the right fit for your business.
Please note that the estimated price generated by the questionnaire is not a final quote and may not reflect the exact cost of SAP Business One for your business. The best way to obtain an accurate quote is to contact Axxis Consulting directly.
SAP Business One Modules Demo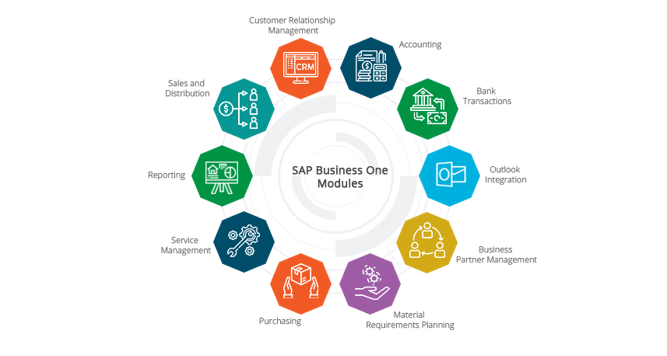 SAP Business One is an all-in-one enterprise resource planning (ERP) software for small and growing businesses. The SAP Business One module demo provides an overview of its core features, including:
Dashboard
A user-friendly dashboard for quick access to important business data and insights.
Enterprise search
A "Google-like" search tool for finding information across the business.
Functionality
A comprehensive range of functionalities for managing finances, sales, purchasing, and more.
Cash Flow Forecast
A customizable tool for forecasting cash flow and tracking financial performance.
Customer 360 View
A complete view of customer data, including sales orders, accounts receivable, and credit information.
Business Partner
Dashboards for customers and vendors, providing all relevant information in one place.
Multiple Legal Entities
The ability to switch between different legal entities makes managing multiple businesses easier.
Unlocking the Benefits of SAP Business One for Singapore SMEs
Implementing Enterprise Resource Planning (ERP) software has been a daunting task for Singapore's small and medium-sized enterprises (SMEs) for many years. This is due to the cost associated with such software.
Fortunately, the Singaporean Government has implemented a Productivity Solutions Grant (PSG) to help alleviate some of these costs. In addition, several add-ons can be used to maximize the functionality of SAP Business One.
Let's examine the advantages of implementing SAP Business One for Singapore SMEs.
1. Subsidy Up To 70% Available – PSG Grant
The Singaporean Government is offering up to 70% subsidy on the cost of implementing Enterprise Resource Planning (ERP) software such as SAP Business One. This grant is known as the Productivity Solutions Grant (PSG).
The grant covers up to S$30,000 in qualifying costs for each ERP implementation project. The grant covers other related services, such as technical support and training courses. Check out this blog to know the eligibility criteria to apply for PSG and how to apply for PSG Grant.
2. E-invoicing Add-on for SAP Business One Singapore
One of the most valuable add-ons available for SAP Business One Singapore is an e-invoicing @ InvoiceNow solution. This allows businesses to send invoices electronically, saving time and money since they no longer have to print and mail paper invoices.
In addition, electronic invoices are more secure than paper invoices since they are encrypted and sent over an encrypted connection. This ensures that sensitive data remains safe from hackers or other malicious actors trying to gain access to your business's financial information.
Axxis Consulting is certified by IMDA for InvoiceNow. Hence, you can easily register for InvoiceNow in SAP Business One on this page.
3. Wide Range of Supported Industries
Designed to meet the needs of all kinds of businesses, SAP Business One Singapore supports a wide range of industries, including manufacturing, distribution, retail, construction, hospitality, and many more. Its scalability and flexibility can be customized to fit any size or type of company, as well as its specific processes. This makes it easy to implement quickly with minimal disruption to daily operations.
4. Local Helpdesk Support by Axxis Consulting
Axxis Consulting is a leading provider of SAP Business One in Singapore with years of experience in ERP solutions. Their team of certified professionals provides local support with 24/7 service available via phone and email. They also offer regular maintenance plans to ensure that your system runs smoothly and is up-to-date with the latest technology releases from SAP Business One.
5. Free Non-Obligatory Consultation & Live Demo
Get started with an obligation-free consultation session with Axxis Consulting where they provide advice on how best to implement the system into your business model along with a live demo so you can familiarize yourself with the features available in SAP Business One before making any decisions about the purchase or implementation plans. It's also an opportunity to ask questions about the product or service for complete clarity before deciding whether it's right for you.
Meanwhile, watch the Demo videos and download documents that comprehensively outline the incredible functionality, features and benefits of SAP Business One.
SAP Business One Singapore – Conclusion
With so many factors influencing the final cost associated with purchasing/using SAP Business One Singapore, it's crucial that companies thoroughly research their options before making any decisions about which type of system(s) they should buy.
Knowing what each factor contributes towards pricing out this particular software package can help businesses get the most bang for their buck when it comes time for them to purchase/use this popular business intelligence application.