Living in an era of high market volatility, it's important for companies to respond to the dynamic customer trends, demands, and uncertain supply. Moreover, the current pandemic crisis has led to various challenges like budget and capacity constraints, change in customer behaviours, etc. Businesses, therefore, need to offer more sustainable and personalized products.
The fierce market competition forced companies to undergo a digital transformation and adopt an Industry 4.0 model. We need resilient and agile manufacturing and supply chain processes to motivate any disruptions in the logistics network during tough times like these. The aim of any manufacturing firm should be to maximize business opportunities when situations become normal.
What is Industry 4.0?
Industry 4.0 or the Fourth Industrial Revolution refers to a smart and digitized manufacturing system that employs the use of intelligent technologies like AI (Artificial Intelligence), IoT (Internet of Things), Industrial IoT, Advanced Robotics, Cloud Computing, Big Data and Analytics, Cybersecurity, 3D Printing, Digital Twins, and many more.
The 4th industrial Revolution is the name of the ongoing automation process of traditional industrial and manufacturing practices through the use of modern smart technologies to digitize the product life cycle. To enhance automation, industries are integrating IoT and large-scale M2M (machine-to-machine) communication into their workflows.
Furthermore, Industry 4.0 solutions also help to improve communication, team collaboration, self-monitoring, and the production of smart machinery. Through M2M communication, businesses can now diagnose and analyze several issues even before they occur. Thus, preventing bigger problems.
The best part is, these modern-day smart processes and machines are designed to automate core business tasks without requiring any human intervention. It not only accelerates your productivity and efficiency but also cuts down costs in the long run.
What is SAP?
SAP is a leading software solutions provider in the world designed to manage your core business processes more efficiently. Solutions within the SAP product portfolio include cloud ERP systems that can automate repetitive tasks, improve data processing techniques, and make better use of your resources, like time, money, and manpower.
SAP, an acronym for Systems, Applications, and Products, is designed to streamline and optimize your business operations through its different modules, including finances, human resources, sales, distribution, quality management, production planning, asset accounting, warehouse management, and the list is endless.
WATCH: SAP & ITS MISSION
Benefits of Using SAP Solutions
1. Suitable for Your Business Model
The SAP platform is tailored to suit your particular business model, thus catering to your specific needs. Moreover, SAP offers effective solutions for all businesses, irrespective of their size and type. The best part is you can get reliable customer support 24/7, allowing you to manage your business procedures seamlessly.
2. Increased Efficiency and Productivity
By gaining complete insights into vital business data in real-time, your employees can work more productively and close projects or leads faster. Besides, different teams and departments can communicate and work more collaboratively since SAP keeps all your vital information updated. By using SAP's supply chain management system, your team players can monitor the inventory more efficiently and track real-time transactions between your business and your suppliers, vendors, and customers.
3. Innovative Technology
SAP's smart technologies have advanced capabilities of automating repetitive tasks, ensuring that your business is equipped with the right tools for future growth and success. Its modules are developed to increase your productivity and efficiency, and help you make the best use of your valuable resources, be it time, money, or manpower.
4. Cost-Efficient Use
SAP's ERP solutions help to reduce administration and labour costs by ensuring that every player is working at the right time. Further, since the platform enables users to replenish their supply chain in an optimized manner, they can save inventory costs as well by preventing the overstock of unnecessary products. You store and manage only what you require as per the demand.
5. Maintain Consistency
An SAP ERP system allows managers or business owners to guide all the departments and teams to work collaboratively towards a unified goal. This further accelerates the decision-making process, thus eliminating conflicts. You can even make regular system updates and check whether your solutions are applicable to each department.
6. Manage Your Business Globally
Additionally, SAP ERP systems also let you manage your business globally, as they allow companies to communicate seamlessly and resolve foreign exchange rates. This helps to identify operational risks at the right time and mitigate them even before they grow into bigger problems.
7. Real-Time Data Analysis and Reporting
Manual processes are difficult to rely on in terms of accuracy. For large company small errors made while managing your core business operations can cost millions. SAP ERP software can automate all these tasks without requiring any human intervention, thus generating accurate and flawless analytical data and insights in real-time.
8. Gain Better Visibility
With SAP, there is no chance of data duplication. You can have reports of every business procedure and gain better visibility over them. Performance and risk analysis reports enable you to track inventory changes and visualize the future of your business and industry.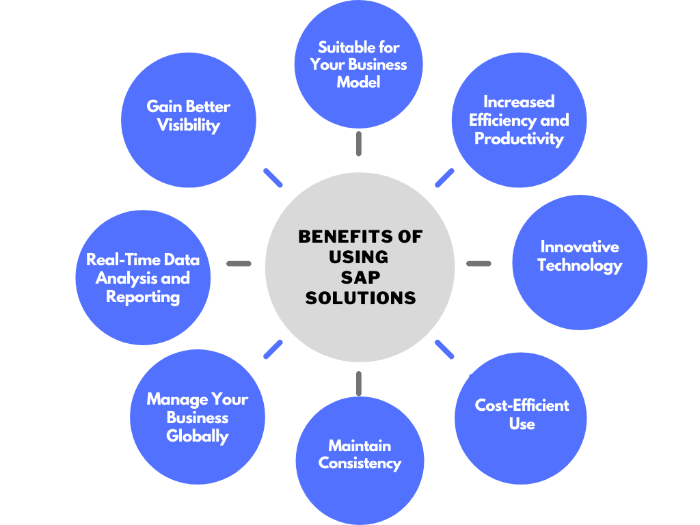 How Can SAP Solutions Boost Your Industry 4.0 Model?
Focus on your customers and collect valuable inputs.
Synchronize sales, logistics, services with production systems. Hence, allowing the team to collaborate better.
Reinvent production and delivering customization by scaling with intelligent processes and assets.
Reduce production and machine downtime.
Improve customer experience and satisfaction.
Empower your team players with better tools and equipment, ensuring their safety and motivation level, which, in turn, boosts their productivity.
Ensure the maximum flexibility to cater to specific customer demands.
Automate and optimize production lines to boost throughput.
Track and manage products at every stage of the logistics network.
Gain real-time information and in-depth analytics for better management of your supply chains.
Achieve a balance between asset health, profitability, and availability.
Reduce supply chain costs significantly while improving customer service levels.
Capture value and increase scalability in your manufacturing practices with Industry 4.0 while overcoming the common roadblocks.
Industry 4.0 drives productivity and agility in your manufacturing processes. So, creating smarter products to connect several devices across the entire supply chain.
SAP's Industry 4.0 Solution Portfolio
SAP's Industry 4.0 solution portfolio further enables you to have full control over your Industry 4.0 technologies. Industry 4.0 technologies are such as big data, cloud computing, AI, digital twins, sensors, autonomous systems, and many more. SAP's top-notch IIoT and Industry 4.0 portfolio is subdivided into four primary categories:
1. Intelligent Products
SAP's advanced IT solutions help design and deliver smart, personalized, and connected products, enabling you to manage engineering changes, monitor product innovation opportunities dynamically, and offer new services.
2. Intelligent Factories
Using smart manufacturing technologies from SAP, you can run smarter factories based on AI, real-time data, and autonomous solutions. You can employ intelligent technologies like 3D printing to adapt to any market situation, maximize efficiency, and deliver greater value and better quality services.
3. Intelligent Assets
SAP solutions use technologies like IoT, digital twins, as well as advanced analytics to enable you to optimize predictive maintenance, onboard assets with greater ease and flexibility, and more. Hence, it allows you to stay above asset health while reducing inefficiency and downtime.
4. Empowered People
SAP allows you to empower and support your team players and help them manage complex projects and tasks with more visibility and ease. Your employees can detect unforeseen events and make informed decisions. Furthermore, you can use geo-fencing, IoT-based monitoring, and real-time analytics to boost their health and safety.
Boost Your Industry 4.0 Transformation with SAP Solutions
The SAP portfolio is capable of simplifying and enhancing your Industry 4.0 implementation by offering a library of the industry best practices, deployment options, preconfigured solutions, and integrated business content. Therefore, SAP solutions can accelerate your Industry 4.0 transformation in the following ways:
1. Maturity Assessment
You can get assessment reports of your organization's Industry 4.0 maturity and compare it with the average maturity of your competitors and the entire industry.
2. Business Assessment
You can evaluate your current business processes and better understand the methods in which Industry 4.0 can transform your business.
3. Vision Exploration
You can track and analyze your company journey since its inception to adopting the Industry 4.0 model. Thus, allowing you to define and shape your vision and explore your future scope of transformation based on your goals, priorities, and challenges.
4. Agile Innovation
You can determine the uncertainties and vulnerabilities of your innovation project by employing SAP expert solutions. Furthermore, you can identify new business opportunities, scale your projects with your budget, as well as create, design, and validate business strategies.
5. Partner Success
You can leverage SAP's top-notch tools, features, and methodologies to ensure a successful Industry 4.0 implementation while managing partner-led and customer-led projects.
6. SAP Model Company Guidance
With SAP Model Company, a preconfigured use reference solution available in the cloud, you can receive guidance on making the right decision while selecting an appropriate reference solution for you.