Sustainability today is a core imperative, and businesses are under tremendous pressure from customers, investors, employees and regulators to work towards a sustainable future.  Many companies have already put forward ambitious goals to become more sustainable and started their journey.  But now (more than ever) it is time to accelerate the sustainability transformation to reach those goals.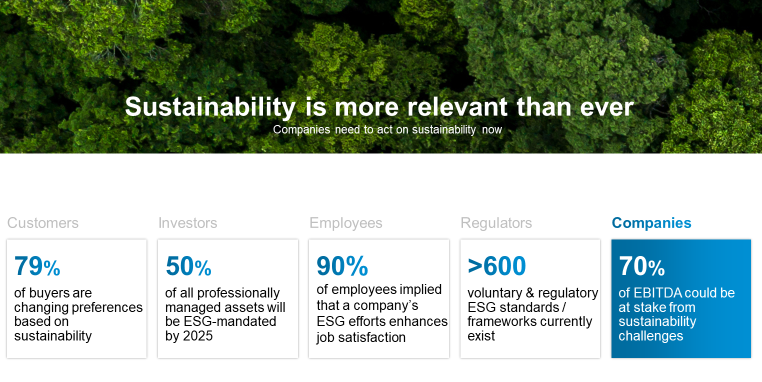 With 77% of the world's transactions touching SAP systems and more than 400,000 companies using SAP software, SAP recognizes both the opportunity and responsibility to deliver digital solutions that enable you to manage your – and the planet's — limited resources productively, contribute to an inclusive economy, and shape a sustainable future.
Discover the Latest Sustainability Solutions
Sustainability solutions from SAP deliver company-wide functionality and industry-specific features that can help you incorporate sustainability in business at scale by embedding operations, experience, and financial insights into your core business processes.​​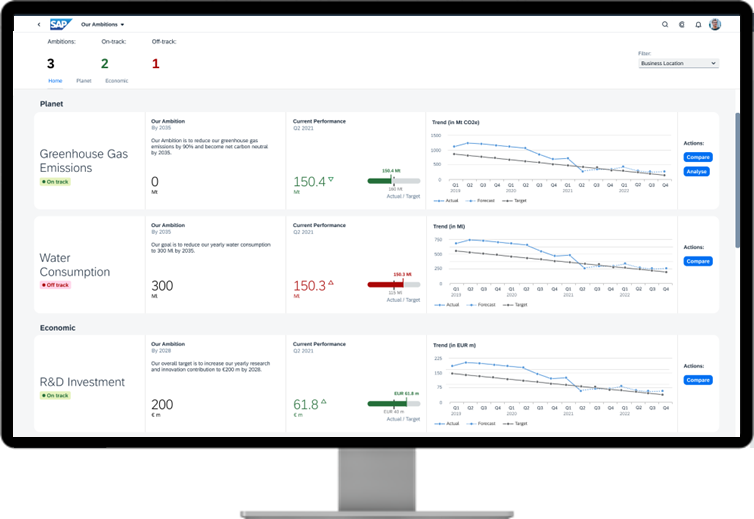 These solutions enable you to record, report and act on your sustainability goals. To do this SAP is looking at three Zeros we need to reach: Zero Emissions, Zero Waste, and Zero Inequality.
1. Zero Emissions
Supply chain emissions are on average 11.4 times higher than operational emissions. So merely focusing on reducing individual operational emissions is no longer enough. With SAP Climate Actions Solutions, you can take action on climate change by reducing your carbon footprint.  These solutions enable:
E2E emission management: Decarbonize the value chain with corporate & product emissions management (scope 1-3) based on calculated and real data.
Inbuilt integration:
Integration and reuse of existing business data from SAP S/4HANA and other ERP systems.
Efficient calculation & reporting: Standardized & fast data acquisition, calculations and reporting.
Elevated decision-making: Real-time, actionable insights into footprint scores and emission reduction.
2. Zero Waste
Companies lack detailed transparency into the makeup of co-mingled materials as they flow through different parts of their supply networks. With SAP Circular Economy Solutions you can build a regenerative business, manage material flows, and embed circularity into core business processes.  These solutions enable:
Design for circularity:
Switch to sustainable alternatives based on upstream and downstream insights.
Resource use optimization:
Understand the impact of extended producer responsibility obligations, fees and taxes.
Business model innovation:
Industry Cloud solutions supporting takeback, re-use and rental models.
Enablement of sustainable commerce:
Extend sourcing solutions to connect markets for re-use & residual waste materials.
3. Zero Inequality
Brands are exposed and vulnerable to socially disruptive issues within their entire ecosystem of operations, not just within the four walls of their business. Brands want to ensure "clean" supply chains devoid of human malpractice, and proactively drive positive impact. Also, social practices in the employee and communities in which they operate.
With SAP Social Responsibility Solutions you can manage the human impact of your business and protect your entire value chain.  These solutions enable:
Equality and human rights:
Foster Diversity, Equity & Inclusion culture and provide supply chain transparency to protect human rights and reduce inequalities.
Health, safety and well-being:
Create a strong culture of workforce health & safety and ensure product compliance throughout its lifecycle.
Learning, skills & capabilities development:
Provide equitable learning access and connect people to opportunities.
Bring It All Together With Holistic Steering & Reporting
Businesses need to record the required data from all three Zeros, report it along various frameworks and most importantly act on it. With SAP ESG Reporting Solutions you can connect your environmental, social, and governance (ESG) data and steer your business toward better decisions. These solutions enable:
Record: Actuals instead of averages
Measure ESG factors with out-of-the-box integration with SAP systems for faster time to value & granular data visibility based on actual data, not averages.
Report: Audit-ready ESG metrics
Report regulatory-compliant ESG metrics covering common frameworks (e.g., GRI) based on an open & extensible solution with the largest ESG ecosystem.
Act: ESG-embedded business processes
Act by planning your future with actionable insights, forecasts and setting targets as well as tracking initiatives & changing business processes.